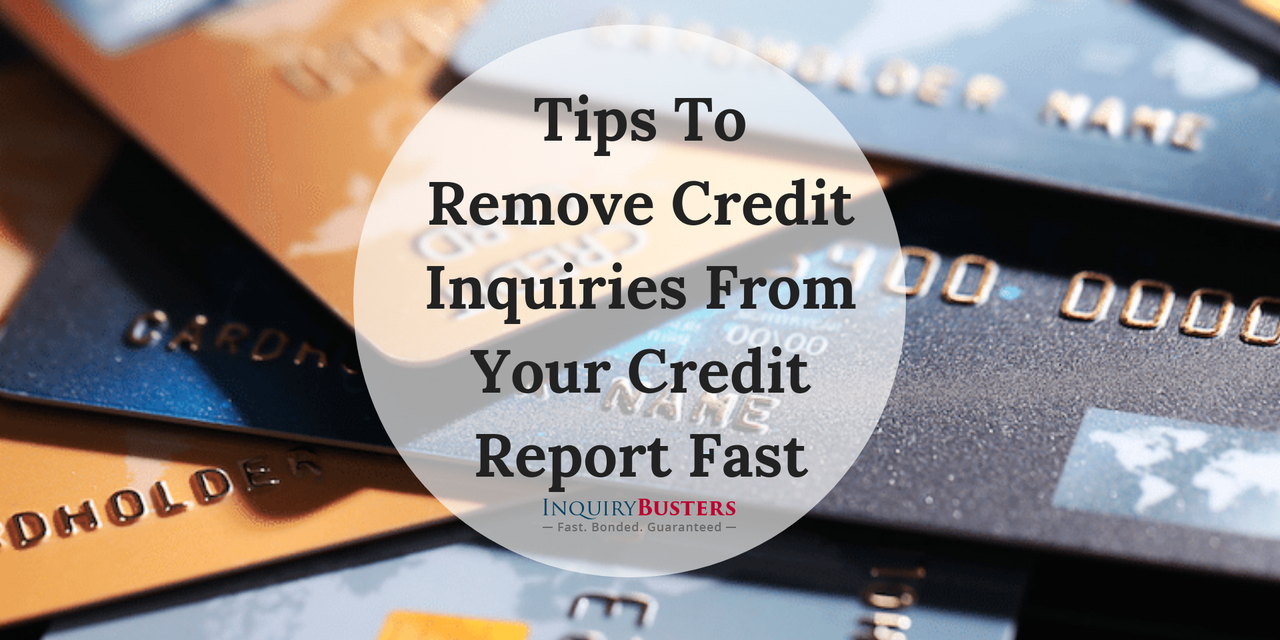 Tips To Remove Credit Inquiries From Your Credit Report Fast
Do you know a credit inquiry can have huge impact on your credit report? And it can make your financial life worse even if you pay your debts on time and maintaining your credit well. Before getting into this situation educate yourself that how can you remove credit inquiries from your credit reports.
The inquiries are made by the organizations that pull your credit reports, and it can remain on your report for up to two years. A section on your credit report with the name off "Credit Inquiries" or "Regular Inquiries" shows the number of inquiries made on your report, and it can prove harmful for you if you will not manage it correctly.
A credit inquiry takes place when a bank, lender, or other credit-issuing institution views your credit report before offering you a loan or credit card. It can also occur in this situation when a property company checks your credit before approving you for a flat lease. These are hard inquiries which play major role on showing your credit worthiness.
Hard Inquiries can have major impact on your Credit Report:
Hard inquiries (also known as "hard pulls") generally occur when a financial institution, such as a lender or credit card issuer, checks your credit when making a lending decision. They commonly take place when you apply for a mortgage, loan or credit card, and you typically have to authorize them.
A hard inquiry could lower your scores by a few points, or it may have a negligible effect on your scores. In most cases, a single hard inquiry is unlikely to play a huge role in whether you're approved for a new card or loan. And the damage to your credit scores usually decreases or disappears even before the inquiry drops off your credit reports for good.
Common types of hard inquiries:
        

Mortgage applications

        

Auto loan applications

        

Credit card applications

        

Student loan applications

        

Personal loan applications

        

Apartment rental applications
Soft Inquiries Won't Affect your Credit Report:
This may occur when, when a credit card issuer checks your credit without your permission to see if you qualify for certain credit card offers. Unlike hard inquiries, soft inquiries won't affect your credit scores. (They may or may not be recorded in your credit reports, depending on the credit bureau.) Since soft inquiries aren't connected to a specific application for new credit, they're only visible to you when you view your credit reports.
Common types of soft inquiries:
        

"Pre-qualified" credit card offers

        

"Pre-qualified" insurance quotes

        

Employment verification (i.e. background check)
Tips To Remove Credit Inquiries Fast:
Tip#1:

Hire Inquiry Removal Service Provider:
Without wasting your own time, hiring an experienced, reputable company to go to battle with the bureaus on your behalf can be a good way to get the results you want, in order to dispute the inquiry with the credit bureaus, there's only one approach that you can follow. You need to ask the credit bureau to remove credit inquiry stating that you never authorized it, and that the creditor did not have permissible purpose. According to the Fair Credit Reporting Act, Section 604, a creditor shouldn't have access to a consumer's credit information unless the individual himself gives written permission, or unless credit access is court ordered or requested by a state or local government agency in relation to child support.
The way to an effective credit repair encounter is to recognize what's in store from the procedure before you begin. Indeed, even the most experienced experts can't do the inconceivable, which, for this situation, implies evacuating genuine, substantiated request. On the off chance that you truly applied for that credit card, regardless of whether you were endorsed or not, and the issuer can demonstrate the supporting documentation, the authorities have each privilege to leave that request on your reports.
Furthermore, comprehend that credit repair isn't a medium-term process under the most favorable circumstances, and can take much more in the event that you have countless. While credit authorities and data furnishers' like need to react to a question inside 30 days that is not an assurance that the issue will be explained in that time. Besides, some credit repair organizations may have set points of confinement on the quantity of question they can document per customer every month.
Tip#2:

File a Separate Dispute for Each

Credit Bureau:
If your credit report consists of some fraudulent inquiries, will result in an affordable way to dispute yourself. Record a separate dispute for each bureau for every request.
As this is the innovative period, document your question both via mail or online through the credit authority's site. However some episodic proof recommends you may have better accomplishment with the more conventional snail-mail techniques. You may likewise unconsciously restrain your capacity to make legitimate action down the road while filling online.
File an online dispute:
There are three types, where you can file your disputes online such as.
 

File an Online TransUnion Dispute.

 

File an Online Experian Dispute
  File an Online Equifax Dispute.
Other Tips to Remove Credit Inquiry from Your Credit Reports are:
Keep in your mind that not all inquiries qualify for removal.
Get ready to wait  for 3-6 weeks for  complete removal of the  qualified hard inquiries.
Consult with the service provider's customer service representatives if you have questions.
Do not submit extra applications while the procedure is in process.
Allow service providers to dispute the inquiries.
Analyze the number of hard and soft inquiries your reports have, most probably hard inquiries.
It is necessary for the betterment of your business to remove credit inquiries from your credit report, because it will show the efficiency of your creditworthiness and no lender will able to reject your loan application. Be very vigilant while dealing with hard inquiries and make sure you perform according to these tips.
 This article was written by GrandTentonProfessionals.com for InquiryBusters.com For Sales and Support Please CONTACT US  at 203-599-4157 or, EMAIL US at: support@inquirybusters.com For Media Relations  CONTACT:  Misty.Burrel@GrandTentonProfessional.com
 KWs: remove credit inquiry, remove credit inquiries