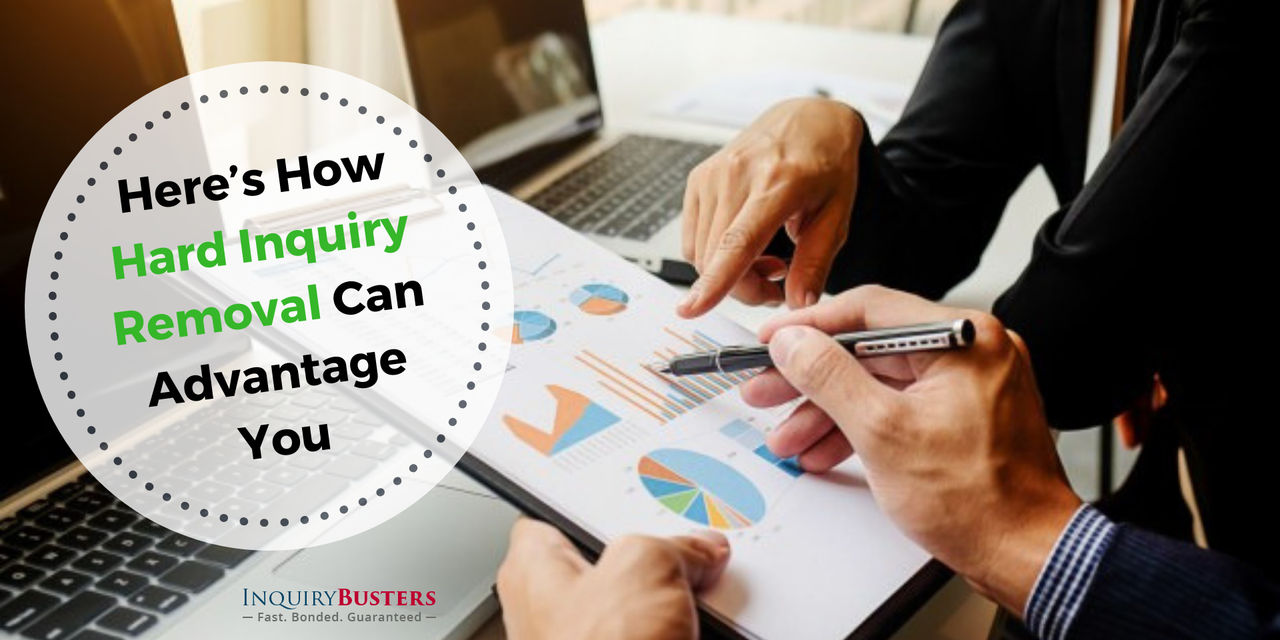 Here's How
Hard Inquiry

Removal Can Advantage You

Are you upset by the poor impacts of hard inquiries on your credit position? Are you even aware of how essential and advantageous hard inquiry removal is for your credit? If you're looking for some satisfying answers to these and other related questions, you are in the right place. This issue threatens every credit-conscious person because hard inquiries harm your FICO scores thus making you an unreliable borrower by pulling down your credit score. Thus they require immediate removal. This article, therefore, will take you to the advantages that you can witness once you buckle down to remove credit inquiries.

Credit inquiries are the requests by a "legitimate business" to check and assess your credit. Every time you apply for a line of credit, the lender you are seeking funds from, will submit a request to review your report. This request appears on your credit report as a 'hard inquiry'. Although a few inquiries cause no harm, eventually, you need to delete them. The increase in the number of credit inquiries and how long they are allowed to stay on your report convey to the potential lenders that you do not manage your credit effectively. So let's look at the points made below regarding the hard inquiry removal and its eventual impacts.
Purpose of Hard Inquiry Removal:
Make yourself clear that you cannot remove a legitimate inquiry from your credit report. One can contest the mistaken hard inquiries like a hard pull by the lender without your consent. The purpose of

hard inquiry removal

lies in the harmful impact the credit scores have to bear due to the presence and persistence of hard inquiries on your credit report. In most cases, hard inquiries stay on your credit report for two years. Nonetheless, there might be the cases where hard inquiries remain on the reports for good 6 to 7 years if you do not dispute them at the right time. Avoiding this adverse situation is the answer to why you need to

remove hard inquiries

from your report.
A Precise Guide to

H

ard Inquiry Removal:
Maintenance is the key to assure the successful survival of everything, be it your dream sports car or your credit position. You need to check regularly and take immediate control if there occurs any glitch. Here's how to get started with the hard inquiry removal process.
#1.
Review your credit report:
Get on the process by first asking for your copy of credit report from all three credit bureaus. Assess the reports comprehensively and attentively look for all the inquiries listed there. If you inspect an inquiry that you cannot recall approving, flag it red and pack up to dispute it.
#2.
Follow up on illegitimate inquiries:
Now there are two ways to use. One option is to discuss the matter with the lender directly associated with the inquiry and refer him to the inquiry you want to get removed. Or you can carry out the removal process formally by contacting the relevant credit bureaus. Whatever way you choose, you need to have complete documents at hand.
#3.
Focus on the dispute letter
In case your request for hard inquiry removal is not entertained by the corresponding lender, you need to take the request to the credit bureau. For this, you need to cautiously consider what details are required and attentively draft a credit inquiry removal letter. In order to be more diligent, consider attaching a copy of your credit report where you witness the unauthorized inquiry.
#4.
Wait for the feedback
Once the case is filed with the credit bureau, you need to sit back and wait for their outcome. The corresponding credit bureau is going to review your credit report and look for the inquiry removal. Whatever they decide, the action will appear on your credit report.
ATTENTION!
                          In case your unauthorized inquiry has been deleted by the credit bureau, for a careful follow-up, you need to seek the reports from the other two credit bureaus. The purpose of this follow up is to make sure that the credit reports from the other two credit bureaus are clean and don't need any further action.
Assess the credit inquiry removal companies:
        Any credit issue which needs a critical and immediate solution requires time and dedication that many people fail to give. If you are one of them, don't hang back using the credit inquiry removal companies. There are many companies out there, such as Inquiry Busters that not only guide you about the damages hard inquiries cause to your report but they also take the responsibility of disputing them by their efficient credit inquiry removal service. Hence, if you find yourself short of time, you have a good option considering them for this job.
Benefits

Of Removing

Hard Inquiries

:
Among different factors that contribute to disturbing the credit scores, hard inquiries are one of them. Removing hard inquiries at the right time can hence benefit you in many ways like
Gradual restoration is one of the top benefits of eliminating hard inquiries of your credit.
Once your credit scores start increasing, you will begin to gain a favorable position in the minds of the lenders. They are the ones who considered you untrustworthy and irresponsible because of the presence of hard inquiries on your report.
You will start getting approval for the loans from well-known lenders and financial companies. Not only that, lenders will offer you attractive rates and good loans.
When your credit position starts improving, you are good to qualify for the credit cards you have been longing for since long.
BOTTOM LINE:
        Having good credit is the first condition to qualify for attractive loans, funding and credit cards. If hard inquiries flood your credit reports, lenders will perceive you as irresponsible, and nobody would agree to give you good interest rates. For many people, one additional credit inquiry (voluntary and initiated by an application for credit) may not affect their FICO score at all. For others, every new credit inquiry would take less than 5 points off their FICO score. This decrease in scores will direct the victim to opt for such hard inquiry removal as early as possible. Another worrying fact is that some people don't even come to know of the hard inquiries until they are in need of the loan. So it is preferable to have a regular check on your credit report and immediately take corrective action even if there is a minute abnormality in credit behavior.
 This article was written by GrandTentonProfessionals.com for InquiryBusters.com For Sales and Support Please CONTACT US  at 203-599-4157 or, EMAIL US at: support@inquirybusters.com For Media Relations  CONTACT:  Misty.Burrel@GrandTentonProfessional.com
Keywords: Hard Inquiry removal, credit inquiry removal service, remove hard inquiries, credit inquiry removal companies